Weekly Tax Brief
Details

Published: 26 April 2017

26 April 2017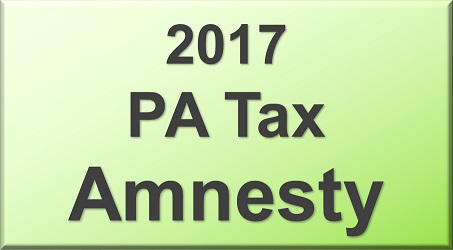 Pennsylvania Tax Amnesty Program Offers Individuals & Businesses an Opportunity for a Limited Amount of Time
Eligible individuals and businesses can apply from April 21 through June 19, 2017 to pay delinquent Pennsylvania state taxes and have ALL penalties and ½ of the interest waived.  The amnesty program applies to over 30 different types of PA state taxes including individual income tax, corporate income tax, sales tax, payroll tax, and Inheritance tax. 
Individuals and businesses with unpaid or underpaid PA taxes as of December 31, 2015 will be eligible; as well as taxpayers who have unfiled returns for tax periods due on or before December 31, 2015.  Taxpayers who participated in the 2010 PA Tax Amnesty program, or taxpayers under criminal investigation or prosecution, or taxpayers in bankruptcy will NOT be eligible.
To find out more details on how we can help you, call our office as soon as possible.